Are We Taught of God?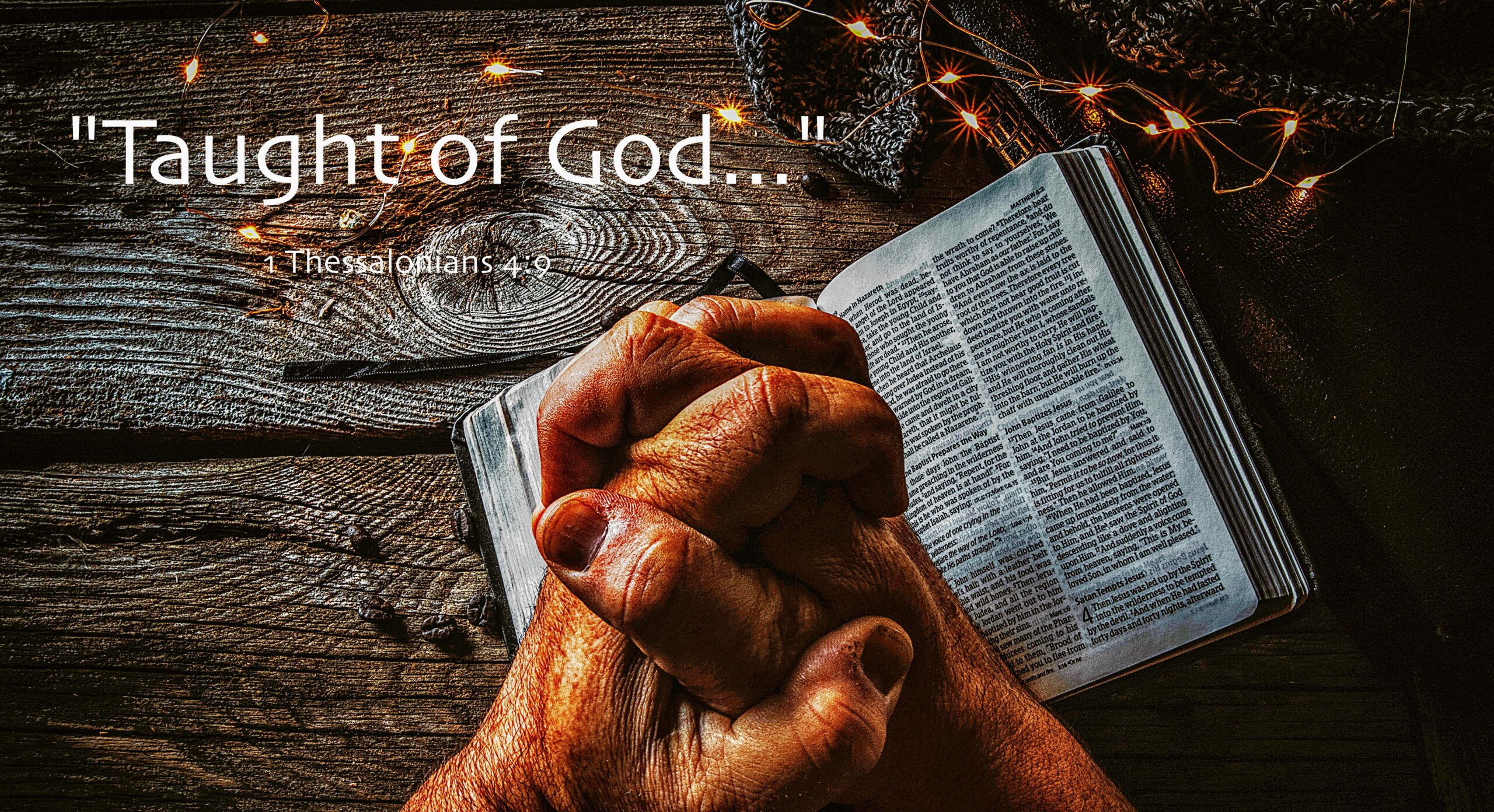 Taught of God
"But as touching brotherly love ye need not that I write unto you: for ye yourselves are taught of God to love one another"
1 Thessalonians 4:9
The culmination of God's work within an individual is Love; His Love ruling and reigning in the life of His own. While those with "itchy ears" (desirous of hearing something pleasant Literal Greek Definition) clamor to hear teachers who will entertain the intellect and arouse their curiosity, those who are taught of God are brought into the arena of His Love for one another.
"For the time will come when they will not endure sound doctrine; but after their own lusts shall they heap to themselves teachers, having itching ears; And they shall turn away their ears from the truth, and shall be turned unto fables"
2 Timothy 4:3-4 (LITV)
The Gospel of God speaks of righteousness and grace. It presents to us a bruised and broken Son of God, delivered to wicked men to be crucified on our behalf, that we should no more be slaves of sin but would become servants of righteousness. The gospel of pleasant things is "another gospel" prevalent in the preaching of today. The verse preceding the above one is Paul's instruction to Timothy on what his preaching should be.
"Preach the word; be instant in season,
out of season; reprove, rebuke, exhort
with all longsuffering and doctrine"
2 Timothy 4:2
We are to preach the Word, reproving, rebuking, and exhorting one another in the fervor and passion of the Holy Spirit. In our day those who live and preach such things are ostracized and ridiculed for being "legalistic". In reality, the Word declares just the opposite.
"Having a form of godliness,
but denying the power thereof:
from such turn away"
2 Timothy 2:5
It is those who live in the realm of appearances and hold to a form of righteousness, (while yet denying the power offered to them), from whom the Apostle exhorts Timothy to turn away. We have perverted the Gospel to such an extent that the "professors" of religion are accepted while those who seek to preach righteousness are turned away even by many who call themselves by His Holy Name. People desire to hear only "pleasant things"; things that soothe the soul and anesthetize the conscience from that word that would pierce asunder "soul and spirit" and make manifest the ulterior motives of the heart (Hebrews 4:12). It is the insincere ones who exempt themselves from the piercing truth of God.
Those who are taught of God know of His Love which corrects, chastens, and reproves that they may grow in the righteousness of God in Christ. Those who love religion and appearance are comfortable with a form of goodness and have no desire to come to the truth.
To be taught of God is to desire His word of reproof, exhortation, and rebuke from all who walk in the light of God. Truth is the only means by which we can know in the depths of our hearts what God's Love is. The Holy Spirit is never called the Spirit of Love; it is called the Spirit of Truth. It is in the ministration of truth, that piercing revelation of all who Jesus is, that we have any concept of the Holy Love of God. God's love does not overlook sin; it atones for it!
Love is the end of God within His people. Those who know God love His people and have His heart, His call, and His desire for them beating within their own hearts. It is from such that His ministrations of truth proceed. Those who speak only "pleasant things" are those who desire only pleasant things. Those who compromise with sin in their own hearts will easily overlook the sins of others. Those who shun those who speak the truth are those who also shun truth in their own hearts; for by their works, men reveal their true condition. It is the day of the unveiling of all things. The Revelation of Christ is also the day of the revelation of all hearts. In the shining forth of Him, all things hidden will be exposed, and "the Lord alone shall be exalted in that day".
To Love someone is to care
To care for someone is to speak the truth
To speak the truth is to reveal Jesus
To reveal Jesus is to Honour the Father
To Honour the Father is to Love the Son
Whether or not we are taught of God is revealed by the depth of His Love which flows from our hearts to others. The validity of an individual being taught of God is revealed in the Love they walk in. If we only love those who love us we know not God.
"And if you love those who love you, what thanks is there to you? For even sinners love those who love them. And if you do good to those who do good to you, what thanks is there to you? For even the sinners do the same. And if you lend to those from whom you hope to receive, what thanks is there to you? For the sinners lend to sinners so that they may receive the same. But love your enemies, and do good, and lend, hoping for nothing in return; and your reward will be much; and you will be sons of the Most High, for He is kind to the unthankful and evil ones"
Luke 6:32-35
"He that loveth not knoweth not God;
for God is love"
1 John 4:8
Please Read the Related Post: Taught of the Lord
†
Taught of God
"This new birth in Christ, thus firmly believed and continually desired, will do everything that thou wantest to have done in thee, it will dry up all the springs of vice, stop all the workings of evil in thy nature, it will bring all that is good into thee, it will open all the gospel within thee, and thou wilt know what it is to be taught of God"
– William Law
Brian Troxel