The Paths of the Lord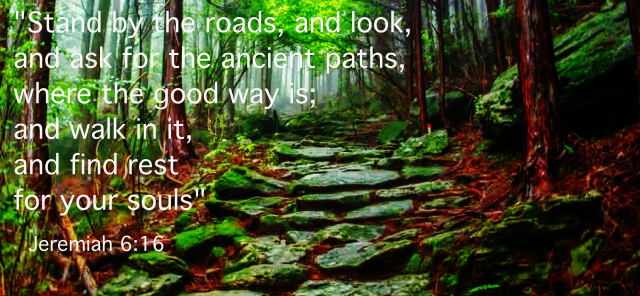 "All the paths of the LORD are
steadfast love and faithfulness…"
Psalm 25:10
Purpose and goodness are like hidden treasures to those who trust themselves to His ways. Every wound and every sorrow bring us nearer to His likeness. One of the mysteries of Christ lies veiled in one of His names.
"He is despised and rejected of men;
a man of sorrows…"
Isaiah 53:3
To identify with our plight, He came to see the darkness of this world, to touch our infirmities, to know our sorrows, and to reveal to us the heart of His heavenly Father. He was the Holy One walking amid depravity, the pure One feeling the oppression of religion and politics and the darkness and sin of fallen man. He was power wrapped in humility. He was the shining forth of the Light and Life of God Himself into a lost world. As God incarnate, He could fully realize the weakness of the human heart into which He breathed the power of the Love and Mercy of God.
"He came unto his own,
and his own received him not"
John 1:11
The narrative has not changed throughout the centuries. To every generation He graciously sends His Word; but while many declare they believe His Word they reject His voice. The paths of the Lord are appointed for those who follow Him. For those who love Him the "man of sorrows" who identified with us, produces joy and sweetness within by His Spirit as we identify with Him.
The promises for all who walk faithfully in the paths of the Lord hold true:
"To appoint unto them that mourn in Zion, to give unto them beauty for ashes, the oil of joy for mourning, the garment of praise for the spirit of heaviness; that they might be called trees of righteousness, the planting of the Lord, that He might be glorified."
Isaiah 61:3
His promises and His purposes rest upon the faithful…
"All the paths of the LORD are steadfast love and faithfulness, for those who keep his covenant and his testimonies."
Psalm 25:10
SEE: Led of The Spirit
—<§>—
"So your path with its unexplained sorrow or turmoil, and mine with its sharp flints and briers– and both our paths, with their unexplained perplexity, their sheer mystery–they are His paths, on which He will show Himself loving and faithful. Nothing else, nothing less.
I am resting my heart on this word. It bears me on eagle's wings. It gives courage and song and sweetness of spirit which is death to lose even for a half-hour."
– Amy Carmichael
Brian Troxel