Go Ye Therefore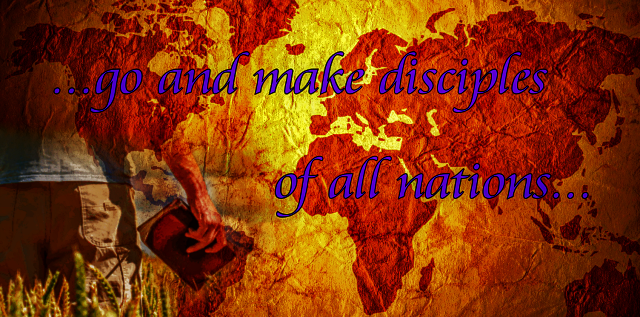 "Go ye therefore, and teach all nations, baptizing them in the name of the Father, and of the Son, and of the Holy Ghost: Teaching them to observe all things whatsoever I have commanded you"
Matthew 28:19-20
The Church of Jesus Christ is offered the dynamic power of Christ Himself. She is not to be passive nor stagnant in her presentation of Him. The "GO" of this verse is pulsating with an unction to leave our places of comfort and invest ourselves into the world around us. Many who hold to a belief in Christ are never influenced by the impulse to venture into the realm of true faith. Faith draws from Christ the Life to do, and thereby become. It is a power that is not dependent on the words of men but on the moving of the Spirit of God.
Let us consider the reason and the foundation for His command "Go Ye Therefore".
"All authority in heaven and on earth
has been given to me. Go ye therefore…"
Matthew 28:18-19
Why do we linger? Why the delay to make Christ known? The present-day gospel is predicated on believing only, rather than a receiving of the power of God. Those who know of His power, who have in some measure experienced the pressings of His Spirit to make Him known, launch themselves into the mystery of His Will. The waiting and the persistent march of time swallow up the brevity of our time here on earth. Opportunities afforded us can quickly pass us by.
The "GO" of God is proportional to our own internal receiving of His power. Obedience is another word for coming under His authority. Those who do not obey may call Him Lord, but their life is bereft of the DOING. The doing of His Will is a revelation of our subservience to Him.
The Centurion declared unto Jesus:
"For I too am a man set under authority, with soldiers under me: and I say to one, 'Go,' and he goes; and to another, 'Come,' and he comes; and to my servant, 'Do this,' and he does it."
Luke 7:8
How did Jesus respond to this man's understanding of authority?
"When Jesus heard these things, he marveled at him, and turning to the crowd that followed him, said, "I tell you, not even in Israel have I found such faith."
Luke 7:9
The "Go" of this man to his soldiers and their response revealed their submission to him. The "Go" of God to us reveals the true state of our relationship with Him. If there is no "Going" it is because there is no true "knowing" Him as our Lord. We may be blessed in knowing that He is our Saviour, but hypocritical in calling Him Lord.
"And why call ye me, Lord, Lord,
and do not the things which I say?"
Luke 6:46
The "Go" of God speaks of movement and faith; a faith developed to draw from Him the enabling grace to "Go" in His Will. Our surrender to the all-pervading Will of God is evidence of our true spiritual condition. Let us consider the context of the Words of Jesus in His discourse with the disciples, there can be no doubt as to the impression of His heart.
Lk 6:46 – "And why call ye me, Lord, Lord, and do not the things which I say?
Lk 6:47 – "Whosoever cometh to me, and heareth my sayings, and doeth them, I will shew you to whom he is like…"
Lk 6:48 – "He is like a man which built an house, and digged deep, and laid the foundation on a rock: and when the flood arose, the stream beat vehemently upon that house, and could not shake it: for it was founded upon a rock"
Luke 6:46-48
(Let us read these words thoughtfully and allow His Word to speak into our hearts. Also, read the entire parable of the wise and the foolish builder. Luke 6:46-49)
___________________
Consider Not the powers that are arising…
"For the LORD spoke thus to me with his strong hand upon me, and warned me not to walk in the way of this people, saying: "Do not call conspiracy all that this people calls conspiracy, and do not fear what they fear, nor be in dread. But the LORD of hosts, him you shall honor as holy. Let him be your fear, and let him be your dread."
Isaiah 8:11-13
May our walk be unaffected by the political and darkening times in which we live. Let the "fear of the Lord be our dread" and let us honor Him as the Holy One to whom belongs the service and obedience of our hearts!
SEE: Faith in God
A.W. Tozer Quote
Brian Troxel