Return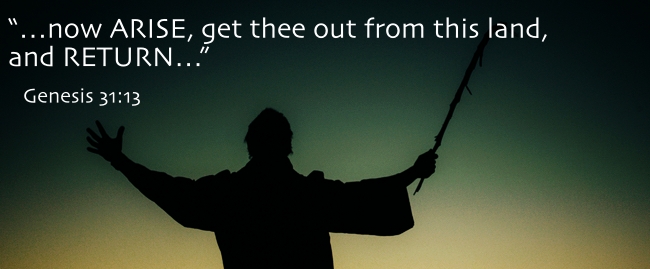 Return
To the Place of the Vow
"I am the God of Bethel, where you anointed a pillar, where you vowed a vow to me. Now arise, get out from this land, and return to the land of your birth.'"
GENESIS 31:13
In our journey with God there are times where we need His intervention to bring us back to that place of remembrance, back to the place of our vows of abandonment to Him.
"For he remembered that they were but flesh; a wind that passeth away, and cometh not again"
Psalm 78:39

Life takes its toll upon us. We get caught up in the things of this world, we take our eyes off of Him and we discover ourselves living by a faithless faith. We find ourselves lost in the sea of lethargy and disillusionment. We lose sight of the glorious "prize" of the high call of God in Christ Jesus. It is in these moments that HE calls us back to the place of our vows where we first committed our lives to Him. We need to remember His mighty deliverance's and the great kindness HE revealed unto us in our darkness. He desires to bring us back to the place where our love for Him was fresh and our eyes were single. He causes us to realize that those words spoken in love and sincerity were important to Him and that He has now come to remind us of our Covenant with Him. He speaks to us of His faithfulness to "keep that which we have committed to Him…" How good our God is. How wonderful and merciful are His ways.
"…now ARISE,
get thee out from this land,
and RETURN…"
GENESIS 31:13
We hear the command of God to ARISE for the place where we are is below the place that He has called us to. It takes an ARISING out of the stupor and the complacency in which we find ourselves; out of the wanderings and circular paths of religion to once again walk in the "narrow" ways of the Kingdom, through the "straight gate" that leads us unto LIFE, LIBERTY and the JOY of the LORD! It takes an ARISING out of the mindset that has caused our eyes to slowly fall from being focused upon Him to the things that be of this world. It takes an ARISING to break the habits and the chains of a faithless walk to once again see and live in the atmosphere of a dynamic FAITH; a FAITH that brings purpose and intensity of quest back into the heart of HIS own that we may run with great strength and determination. A FAITH that presses us on to a new intensity of knowing and pleasing Him more than we do now. A FAITH that sees afresh the real and eternal issues of Life that stands before us.
"In returning and rest shall ye be saved…"
ISAIAH 30:15
It is in our returning that we find a renewed sense of His Presence and His Blessing in our lives. Returning requires obedience and response to His Living Word. The response is the means by which we ARISE out of our present circumstance. Faith always requires obedience and action. It is the Word producing within us the ACTION required for its own fulfillment. It is by us staying current with our God that we remain under the shadow of His Wings. For HIS WAY is never static, it is never stale and it will never leave us "barren nor unfruitful" in the things of our God!
"They that dwell under his shadow shall return;
they shall revive as the corn, and grow as the vine:
the scent thereof shall be as the wine of Lebanon"
HOSEA 14:7
Brian Troxel
(updated writing 2012)