A Sound Heart
"Let my heart be sound in thy statutes;
that I be not ashamed"
Psalm 119:80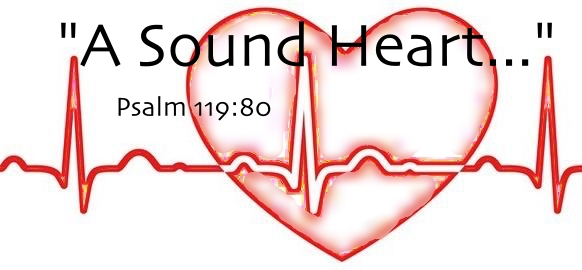 "We may regard this inspired prayer as containing within itself the assurance that those who keep close to the Word of God shall never have cause to be ashamed of doing so.
See, the prayer is for soundness of heart. A sound creed is good, a sound judgment concerning it is better, but a sound heart towards the truth is best of all. We must love the truth, feel the truth, and obey the truth, otherwise, we are not truly sound in God's statutes. Are there many in these evil days who are sound? Oh, that the writer and the reader may be two of this sort!
Many will be ashamed in the last great day when all disputes will be decided. Then they will see the folly of their inventions, and be filled with remorse because of their proud infidelity and willful defiance of the Lord; but he who believed what the Lord taught, and did what the Lord commanded, will stand forth justified in what he did. Then shall the righteous shine forth as the sun. Men much slandered and abused shall find their shame turned into glory in that day"   Charles Spurgeon
Soundness of heart is an authentic heart, a heart free from duplicity and hypocrisy. The inward reality is congruent with the words spoken and the life lived.
"Lord, who shall abide in thy tabernacle? who shall dwell in thy holy hill? He that walketh uprightly, and worketh righteousness, and speaketh the truth in his heart"
Psalm 15:1-2
Brian Troxel