The Two Aspects of Hearing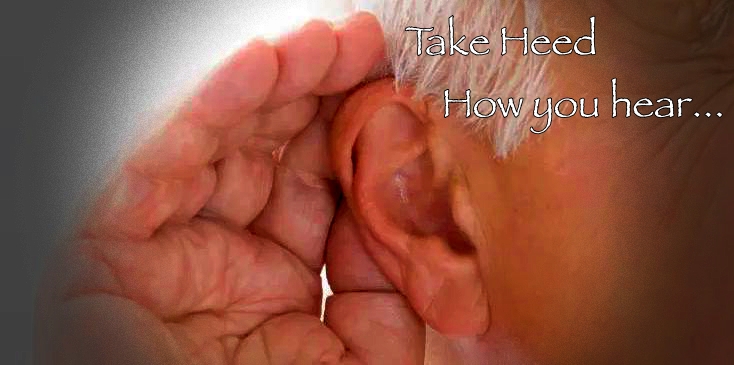 How Do We Hear?
In our day the Christian landscape is rife with erroneous teachings and heresies. Most of these are obvious to any child of God with even a limited concept of the foundational truths of Christ. However, Jesus addressed two aspects of hearing with His disciples; each were critical in the measuring of His truth to them. These are clearly set forth for us: take heed WHAT we hear and take heed HOW we hear. The first warning concerns the "hearing" of those who follow Him.
"Take heed WHAT you hear. With whatever measure you measure, it will be measured to you, and more will be given to you who hear"
Mark 4:24
Here Jesus is addressing the content of WHAT people hear. There is a divine measuring of truth proportional to what we are willing to hear. If we allocate God's truth to be for another time and not for us today, we will be unable to hear anything further. The "measure" that we allow will determine what is measured to us. We must "take heed" to these critical warnings. Only then will the Body of Christ be a light and a wonder to the world around us!
God has always been concerned with HOW His people hear His Word. Many may read its content. Many may discuss its implications and even teach its meaning, but few hear with the ears of faith.
It is HOW one hears that determines how one walks.
Hearing is the foundation of an individual's life in God. This intrinsic and essential faculty determines the whole concourse of our life. Where there is no hearing by the ear of faith there can be no growth in our relationship with Him. The crisis of every heart is reduced in God to this ONE THING. It is here that the eternal destinies of all people are concluded.
"Take heed therefore HOW ye hear: for whosoever hath, to him shall be given; and whosoever hath not, from him shall be taken even that which he seemeth to have"
Luke 8:18
There is a deception which is of a far higher order than merely taking heed to WHAT we hear; it is in the realm of "HOW" we hear. Throughout the New Testament we are struck with the clear distinction God makes between those who hear and those who do not.
The Parable of the Builders
"Therefore, whosoever heareth these sayings of mine, and doeth them, I will liken him unto a wise man, which built his house upon a rock…"
Matthew 7:24
Jesus continued in this Parable to contrast the one who heard correctly from the foolish one who also heard correctly WHAT Jesus was saying but failed in HOW he heard.
"And every one that heareth these sayings of mine, and doeth them not, shall be likened unto a foolish man, which built his house upon the sand"
Matthew 7:26
The strength of the House which each man built was not determined by WHAT they heard but in what they DID with what they heard. In other words: in HOW they heard! One man heard the Words of Jesus as the Word of the Lord who is to be obeyed; the other heard the Words of Jesus as a Teacher and viewed God's Word as something to know rather than something to be obeyed! The "fruit" of these two contrasting lives is clearly set forth in the power of Christ's Word to His disciples.
Jesus, in a few verses preceding this Parable, set forth what He was clearly meaning.
"Not every one that saith unto me, Lord, Lord, shall enter into the kingdom of heaven; but he that doeth the will of my Father which is in heaven"
Matthew 7:21
The eternal question to each of us is, "HOW are we hearing?" Do we hear Jesus as LORD, or do we hear Him as our Teacher? One to be obeyed, or one who came to merely enlighten us with divine teachings? The manner of our walk reveals the evidence of HOW we hear!
"Take heed therefore HOW ye hear: for whosoever hath,
to him shall be given; and whosoever hath not,
from him shall be taken even that which he seemeth to have"
Luke 8:18
Σ
"But be ye doers of the word, and not hearers only,
deceiving your own selves"
James 1:22
Brian Troxel