THE THINGS TO COME 2016

This is a Word from the Lord given to me on February 26, 2016, which I have reposted (SEE this link for the original: Things to Come). We are touching but the beginning of darker things to come. It is a time to prepare ourselves for the storm which is coming.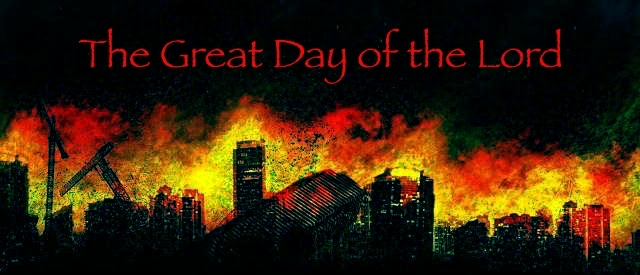 "I spake unto thee in thy prosperity;
but thou hast said I will not hear.
This hath been thy manner from thy youth,
that thou obeyed not my voice"
JEREMIAH 22:21 (*1 NOTE)
God is speaking to His Own in the day of prosperity. HE calls out to them, HE seeks to warn them of the storm that is about to break, yet they will not hear. The teachings of this hour dismiss obedience as a "legalistic" approach to our new understanding of "love" (see Revelation 3:19). We are told over and over again that we are OK and that somehow the God of the New Testament is not interested in obedience. We have a "gospel" that removes the fear of God from our land. To this person that will not hear and will not obey God goes on to say…
"The wind shall eat up all thy pastors (*NOTE 2),
and thy lovers shall go into captivity:
surely THEN shalt thou be
ashamed and confounded
for all thy wickedness"
JEREMIAH 22:22
He will remove the pastors who comfort those who should not be comforted.

HE will take away their trust in men and

the forms of gathering that prevent people from realizing their own responsibility to seek, hear and obey God for themselves

. The storm is about to hit and we are unaware.
God speaks in the day of prosperity because in times of prosperity men tend to forget God; they become comfortable in a religion that does not convict. They glory in a form of truth, an appearance of something that is alive but in reality is dead. God speaks to His Church in Sardis…
"These things saith HE
that hath the seven Spirits of God,
and the seven stars; I know thy works,
that thou hast a name
that thou art alive, and art dead"
REVELATION 3:1
These are people who have not grown in their walk with God. The Bread of Life has not been developed within them; they hear much and see little. They have not developed a living relationship with the Fountain of Life and have a constant need to be fed rather than becoming bread for others. God will remove those pastors who have loved the place of pre-eminence in the assemblies but have not been burdened over the condition of the people of God. God will remove those who have spoken smooth things in this day, who have ministered a spirit of slumber, who have spoken "peace, peace" when there is no peace. Rather than sounding out the alarm on the day of the Lord (Joel 2:1), rather than calling people to repentance and righteousness, they have sought to comfort them with a gospel that makes men comfortable with sin and disobedience.
It is in the removal of these things that the people of God are suddenly struck with the true nature of their condition before a Holy God. God must remove these influences that in seeing their true condition they will turn unto Him in heartfelt brokenness to find mercy and grace. God's end is always to bring men and women to Himself. He does not chasten His Own without the motive to draw them near, heal them, and restore them into a right relationship with Himself.
"So then because thou art lukewarm, and neither cold nor hot, I will spue thee out of my mouth. Because thou sayest, I am rich, and increased with goods, and have need of nothing; and knowest not that thou art wretched, and miserable, and poor, and blind, and naked: I counsel thee to buy of me gold tried in the fire, that thou mayest be rich; and white raiment, that thou mayest be clothed, and that the shame of thy nakedness do not appear (*NOTE 1); and anoint thine eyes with eyesalve, that thou mayest see. As many as I love, I rebuke and chasten: be zealous therefore, and repent"
REVELATION 3:16-19
*1 NOTE: This prophetic word to His Church concerning their nakedness is in stark contrast to the teachings of this hour. We have a teaching that we are already clothed in righteousness and that we need not concern ourselves with such things! This Word was given in around 90AD over 20 years after the martyrdom of Paul! How false and erroneous are the teachings of our day. God says "As many as I love, I rebuke and chasten", this is the true LOVE OF GOD, blessed are those who have ears to hear and hearts to respond to Him in this hour.
1. "Thou hast a FEW names even in Sardis which have not defiled their garments, and they shall walk with me in white: for they are worthy." (Revelation 3:4)
2. "Behold, I come as a thief. Blessed is he that watcheth, and keepeth his garments, lest he walk naked, and they see his shame." (Revelation 16:15)
People who are content with such things (declared righteousness) are those who fail to realize their own responsibility to keep their garments clean; they cannot hear, are not able to see, and will not obey the voice of God in this hour.
*2 NOTE: This removal of Pastors is nothing new in the history of the church. The most recent occurrence of this on a large scale was in China (1950's) when the Communist Government removed the pastors and installed their own and the visible organized church became a sounding board for the government. Those who had been a part of what was called "the Little Flock Movement", where the people of God developed their own walk (prior to the purge), simply went underground and the church of God flourishes to this day.
"As many as I love, I rebuke and chasten:
be zealous therefore, and repent"
REVELATION 3:19
Brian Troxel