God's Invitation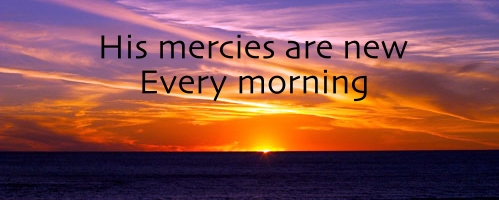 God's Invitation to Newness of Life
"I am making all things new"
Revelation 21:5
I love the "ing" of God! He is ever in the present tense, creating, moving, influencing His nature upon our own. He has come and more importantly IS come, to work within the recesses of our hearts the wonder of our becoming new.
Resurrection life can only be known by those who have been redeemed by the blood of Jesus. He breathes into our being His "newness" through the creative power of His Son.
"All things were made through Him, and without Him was not any thing made that was made"
John 1:3
The "ing" speaks to us of an on-going process; our lives interacting with His through the agency of relationship. The living ONE imparts grace and glory into that which is lost and dying. Regardless of our situation in life, there remains a consistent offer to come, drink, rest, and fellowship with Him. In our "becoming" we reveal the truth and authenticity of our relationship in Him.
"In Him was life;
and the life was the light of men"
John 1:4
The LIFE of Him within is the verity of our light; not a thing learned, studied, or discussed. Rather it is this Life that imparts His light and power of being into the lostness of our own. By the power of this relationship, He is "making all things new".
"And this is life eternal,
that they might know Thee the only true God,
and Jesus Christ, whom Thou hast sent"
John 17:3
The author and sustainer of eternal life defines it in terms of a relationship. The Greek word used here is one of experiential knowledge, a knowledge afforded us by a living relationship with Him.
"And we know that the Son of God has come and has given us understanding, so that we may know Him who is true; and we are in Him who is true, in His Son Jesus Christ. He is the true God and eternal life"
1 John 5:20
The truth of Him can only be imparted to us by the sheer wonder of our abiding in Him. The newness He offers (through a mercy we can never comprehend) is available to all who come to Him by the living faith as He moves within our hearts.
God's Word to His Own is:
"Behold, I stand at the door and knock: If anyone hears My voice and opens the door, I will enter to him, and I will dine with him, and he with Me.
Revelation 3:20
He is ever knocking, ever calling, and ever seeking the wonder of a relationship by which He is making all things new. May we hear and respond to His call every morning to the renewing power of His presence by prayer and communion with Him.
"O Lord; in the morning
will I direct my prayer unto Thee,
and will look up"
Psalm 5:3
See: The ING of Life
Brian Troxel