Expectation
" My soul, wait thou only upon God;
for my expectation is from him."
Psalm 62:5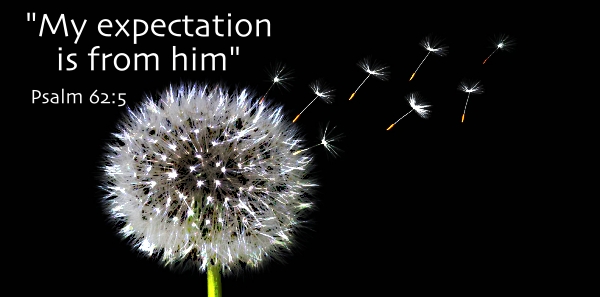 Expectation
The expectant soul is one who recognizes their dependence upon God. He has no other expectations than Christ Himself. The greater our vision of Him, the greater will be our need for Him.
To live a life that expresses Him we must know the necessity of His living resources. Our own meager resources will never be sufficient for the demands of the day. Each day He is calling, drawing, and ever desirous that we live in the unconscious wonder of His canopy of love. There is a gracious support of our hearts and minds; He holds sway over our fickleness. The tensions and the demands of our days may distract us from this place of rest, but in returning, we will find our way back to the quiet harbour of His presence. It is in those moments we are instinctively aware of the steadfastness of our Rock.
"…when my heart is overwhelmed:
lead me to the rock that is higher than I"
Psalm 61:2
Paul and his faithful companions knew much of the pressings and trials in their day. We should "find it not strange" that our days are such. There are many who have endured incredible adversities to the very limit of their strength, but God held them steady.
"…we were pressed out of measure, above strength,
insomuch that we despaired even of life"
2 Corinthians 1:8
There are deep waters before us, testings greater than what we know now. It is today that He grooms us, prepares us, and works to free us from our self-reliance, that we may stand in the coming evil day. Paul's resiliency was found in the power of the following verse:
"But we had the sentence of death in ourselves,
that we should not trust in ourselves,
but in God which raiseth the dead…"
2 Corinthians 1:9
Take heart as He works all things for our good. Let us keep our expectation only from Him and be ever faithful, "abounding in the Work of the Lord".
"Therefore, my beloved brethren, be ye steadfast, unmoveable, always abounding in the work of the Lord, forasmuch as ye know that your labour is not in vain in the Lord"
1 Corinthians 15:58
Brian Troxel